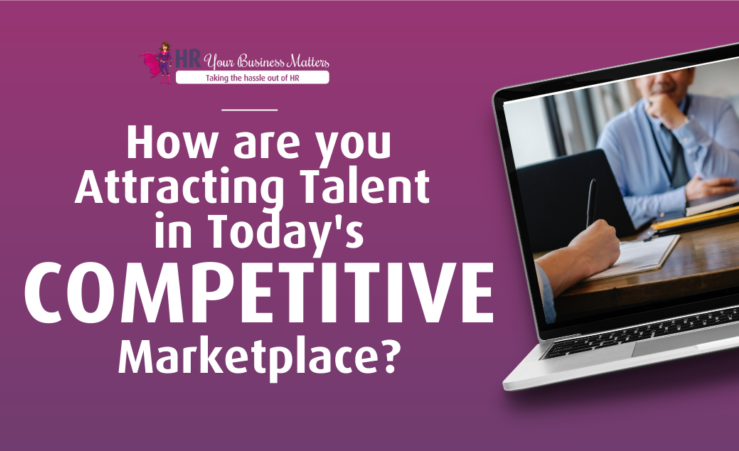 Attracting and retaining top talent is a major challenge for small businesses in today's competitive marketplace. The most important factor for most employees when considering a new job is the salary and benefits package. However, there are many other factors that can make a difference in attracting talented employees to your business.
In this blog, we will discuss the key elements of a competitive salary and reward package that can help small businesses to attract and retain top talent.
Salary and Compensation
The first and most important element of any salary and reward package is the salary itself. It's essential to offer a salary that's competitive with other businesses in your industry and region. You can research salaries for similar positions in your industry on job boards and professional associations. Or you can speak with your friendly and experienced HR practitioners (that would be us) who can do it for you! When setting salary benchmarks, really consider factors like experience, education, and location. Ask yourself whether these are essential and desirable?
To make your offer even more attractive, you can offer performance-based bonuses, profit-sharing, or equity. These types of incentives motivate employees to perform better and stay with your company in the long term.
Healthcare and Dental Benefits
Most individuals now request health or dental care as part of their overall package. This request has been heightened particularly during the pandemic and in the aftermath, probably due to the focus on our health and the long NHS waiting times.
From another perspective, as an employer, from a business and productivity perspective, providing your team members with health and dental provision can support in keeping your employees in work and limit potential absences. A definite win for your you and your employees!
Many small businesses don't offer healthcare or dental benefits because they think it's too expensive. However, there are many affordable options available, including group plans and health insurance marketplaces. As a business, at HR Your Business Matters, we provide both heath and dental care to our team members through WPA ( https://www.wpa.org.uk/ ) which is incredibly affordable.
Hybrid Working Options
The pandemic has changed the way we work, and many employees now value flexibility and work-life balance. During the pandemic, people re-evaluated their priorities, which isn't uncommon when faced with a significant change or shock.
Prior to the pandemic, many of you didn't consider hybrid working as an option, potentially due to limitations of technology or potentially a little nervousness about what productivity would be like, when you couldn't physically see what was happening. The pandemic pushed forward flexible and hybrid working by approximately 10-15 years, where you were forced to implement and utilise technological options as a way to avoid closure and meet client needs. The majority of people stepped up during the pandemic in regard to productivity and in some cases productivity soared.
One way to attract talented employees is by continuing to offer hybrid working options. Hybrid working will allow your employees to work from home part of the time and come into the office for the rest of the time. The key to accommodating this for a new employee is clear communication. Many employers insist that a formalised or front facing option is taken during induction and probation, due to the training and development needs required. There isn't a one size fits all with hybrid working.
Hybrid working has many benefits. It can improve work-life balance, reduce commuting time, and increase productivity. It may also allow you to expand your talent pool beyond your local commute area, and avoid relocation packages, enabling you to attract top talent from potentially anywhere in the world.
Professional Development Opportunities
Another way to attract talent is by offering professional development opportunities. Employees value opportunities to learn and grow, and they're more likely to join you and stay with you if you support and invest in their development.
You can offer a variety of professional development opportunities, including online courses, workshops, mentorship programs, and conferences. Have you seen our People Academy workshop/course options, focused on leadership and people management? Check them out at www.hr-yourbusinessmatters.co.uk
Personal Development Opportunities
In addition to professional development opportunities, you can also offer personal development opportunities. These can include gym memberships, wellness programs, and mental health resources, as well as courses and education in topics outside of the individuals employment. These types of perks show employees that you care about their well-being and support their personal growth.
Have you ever had an employee ask to reduce their hours so that they can accommodate a hobby or interest? This is becoming more popular and by offering personal development opportunities can reduce the impact of this!
Other Rewards
Finally, you can offer other rewards to make your company really stand out from your competition. These can include:
– A generous holiday policy
– Paid parental or enhanced family friendly leave
– Retirement savings plans
– Stock options or equity
– Charitable giving programs
– Free snacks or meals
– Team building events or outings
– Access to electric vehicle or cycle schemes
Cultural Reward
When considering which rewards to offer, think about your company culture and values. What types of perks align with your mission and vision? What will resonate most with your employees?
Examples of this may be if you are a healthy lifestyle business, free fast-food vouchers may not be the way to go, but healthy options may go down a treat! Tech businesses may want to offer specific and tailored tech solutions and equipment for personal use. The possibilities are endless!
Top Tip
A final top tip and one often not considered, when was the last time you asked your current team what attracted them to work with you? What do they value from what is offered? Have you asked the question around what they would like to be included if they have an input? This is a great motivator for your workforce!
Listening to your employees and their needs is crucial to the success and growth of your business. Not only does it ensure that your employees will feel confident and valued, but it will also help give your business a positive reputation which can be reflected both in your recruitment process and when working with clients.
In conclusion, a competitive salary and reward package can make all the difference in attracting top talent to your small business. While salary and benefits are essential, other factors can also make a big impact. By offering a comprehensive package of rewards, you can differentiate your company from the competition and attract and retain the best employees.
If you need any support when considering the salary and benefits of your existing team and how to attract top talent, get in touch with us on 01733 739660, for an initial discussion!