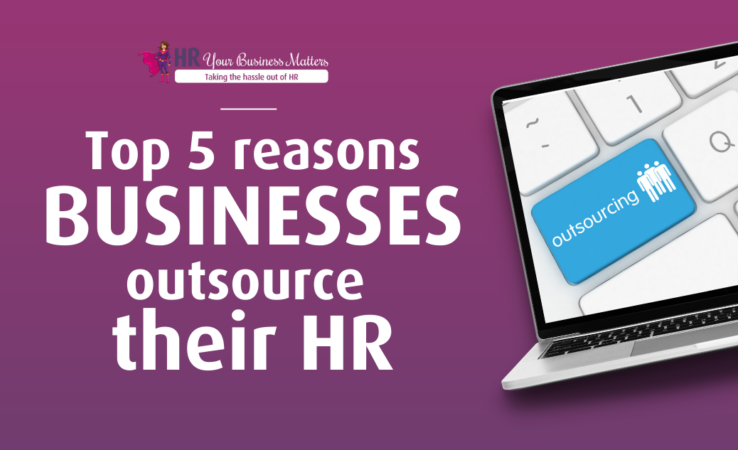 Have you ever thought about why you should outsource your HR?
As a small business owner, you have a lot on your plate. Your role probably consists of managing finances, handling admin, tackling production or services, wading through administration all the way through to driving sales, you're constantly juggling and that to do list never really gets any smaller!
From our experience, one of the biggest frustrations is that you (yes you!) struggle constantly with the need to work in your balance and the requirement and desire to work on your business. The operational needs of the business, time and time again, are the priority and the 'working on the business' becomes a secondary almost nice to do, which as business owners we know limits the potential to grow and scale our businesses and profitability.
Of the gigantic to do list and operational priorities, one area that often gets overlooked is people management and development, commonly known as human resources (HR). Do any of this sound familiar?
Needing to hire the right people, but not finding the time to recruit properly. Have you ever recruited someone knowing they weren't quite right for the role, but making the decision based on panic and needing a bum on the seat completing some work?
Needing to have the right legal compliance along with frameworks in place to safeguard your business and manage expectations but not knowing exactly what to have in place so you have a quick look online and download some standard templates or worse still just leave nothing in place?
Needing to implement KPI's or performance measures such as absence management, conduct and capability processes but you lack the confidence to implement anything or have those conversations through fear of saying something or doing something wrong?
Needing to delegate more, freeing up your time to concentrate on other areas, but time and time again you end up working all hours, when some individuals clock off on time without a care in the world?
We have a motto within the business that our focus is working with our clients to prioritise having the right PEOPLE, in the right PLACE, at the right TIME, with the right KNOWLEDGE, SKILLS, BEHAVIOURS and EXPERIENCE.
Having the right people in place can turn your business around and make things so much easier for you!
That's why more and more small business owners are turning to outsourced HR and people support providers like HR Your Business Matters Limited. Here are the top five reasons why.
Legal Compliance
Employment laws and regulations are constantly changing, and keeping up with them can be a challenge. Outsourced HR providers like HR Your Business Matters Limited stay up-to-date with the latest legislation, ensuring that your business is always compliant. This includes everything from employment contracts, policies and frameworks as well as supporting with the hire of your next top talent, managing problematic individuals and creating progression and succession plans that support business growth.
Time Savings
Managing HR and people-related tasks can be time-consuming, and for small business owners, time is often in short supply. By outsourcing these responsibilities to HR Your Business Matters Limited, you can free up time to focus on other areas of your business. This can help you to be more productive and efficient, ultimately leading to better business outcomes.
Expertise
HR and people-related tasks require a specific set of skills and knowledge. By outsourcing these tasks to us, you gain access to a team of experts who are dedicated to helping your business succeed. From recruiting and onboarding to employee engagement and development, we have the expertise to support your business at every stage of the employee lifecycle. Plus, we get you, your pain points, your aspirations and we work with you, in a way that suits you!
Cost Savings
Hiring an in-house HR team can be expensive, especially for small businesses. Outsourcing HR and people support to HR Your Business Matters Limited can be a cost-effective alternative. We have great small business retainers that are flexible and allow you to flex up and down as your needs change. Unlike some outsourced providers (you know the large multinational ones who tie you in for 3-5 year contracts and then deliver a near zero service!) you'll only pay for the services you need, and you won't have to worry about the costs associated with hiring and training an in-house team. This can help you to manage your budget more effectively and achieve better financial outcomes.
High-Performing Team
A high-performing team is essential for you and your business success, but building and managing such a team can be a challenge. We can help you to create a culture of high performance by providing expert guidance and support on everything to do with your people, or we can physically come in and manage it for you! We love being integral to your team and we deliver our best work when we know your team and they know us! This can help you to build a team that is engaged, productive, and committed to achieving your business goals.
By partnering with HR Your Business Matters Limited, you can enjoy peace of mind, safe in the knowledge that your people-related tasks and priorities are being taken care of and as you grow and implement a structure which includes leaders of different areas, we can also train your leaders to be the very best leaders for you and the business.
If this sounds like the type of support you need then you need to give us a call on 01733 739660 so we can get to know you and your business better and discuss how we can help you with your people needs.